7th Biennial Conference on Religion & American Culture


Every two years, the Center holds a conference on religion and American culture featuring the work of nationally recognized scholars speaking on a wide variety of subjects. Programs include both presentations and roundtable discussions. Conversation is, in fact, the key to our biennial meetings. As in years past, panelists will sit in the center of the room at a round table. Around them will be risers on all sides for attendees, thus promoting a sense that we're all gathered around the table together. This promotes more face-to-face conversation rather than the traditional "sage on the stage" presentation followed by a few questions that not everyone can hear. We invite you to join us June 2-4, 2022, for the Seventh Biennial Conference on Religion and American Culture. We have new ideas to push our already non-traditional meeting even further!
Once again, the conference will be held in Indianapolis, Indiana. While best known for its iconic motor speedway and 500-mile race, Indianapolis has a surprise waiting around every turn. The city has glimmering canal walk connected to 250 acres of urban green space with one-of-a-kind museums, a top 10 zoo, the original LOVE sculpture, and the world's largest children's museum. Indianapolis also has a collection of monuments and memorials rivaled only by Washington DC.
At this year's Biennial Conference, we are pleased to invite advanced graduate students to present on their research at the opening night dessert reception sponsored by the Center's journal, Religion and American Culture: A Journal of Interpretation. Up to 10 graduate students will be selected to provide 3-4 minute mini-presentations describing their project and the import and impact of their work on American religion. The journal seeks to publish work that revises or considerably extends our understanding of the relationship between religion and other aspects of American culture, so presentations need to focus on that goal.
Following the presentations, the graduate students will receive feedback and engagement from senior scholars as well as the other attendees of the conference. The graduate students who are chosen for the Emerging Scholars Panel will receive a year-long subscription to the journal. Most importantly, the Emerging Scholars panel will provide the graduate student attendees the opportunity to connect with other graduate students across the country and share their research with interdisciplinary thinkers and practitioners in the fields of American studies and religion. For full consideration, graduate students must submit their 300-400 word submission by 11:59p ET on April 29, 2022. Apply to present at the Emerging Scholars panel here.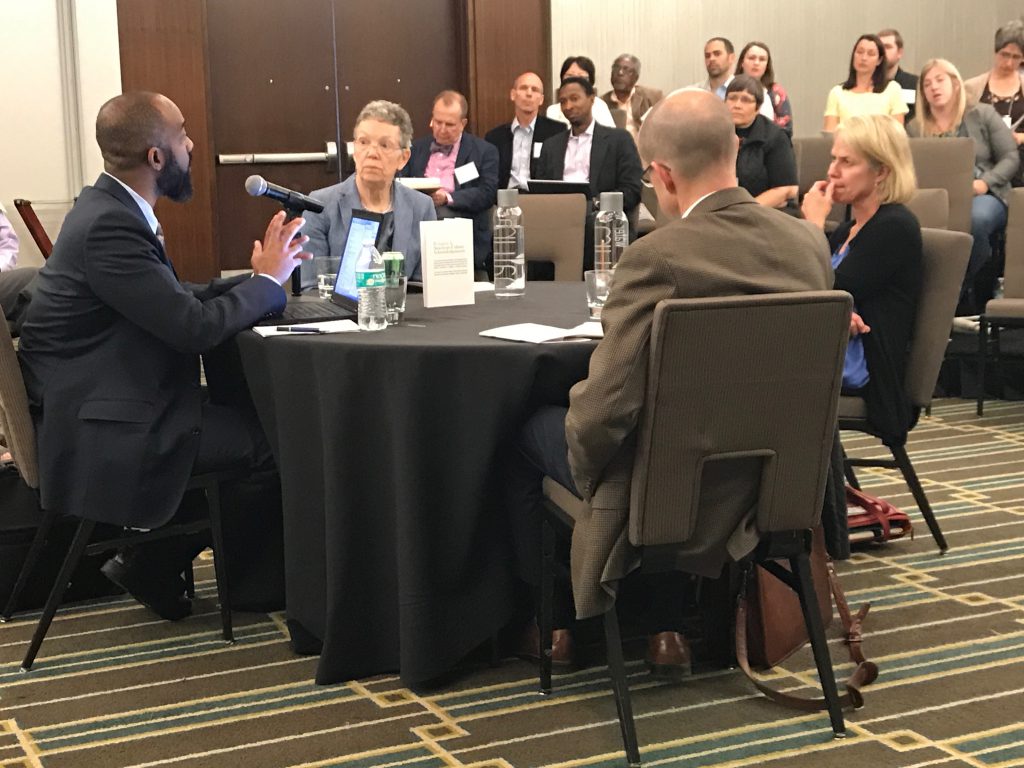 We are excited to announce that the conference will take place at the Hampton Inn & Homewood Suites hotels in Indianapolis for several days of interdisciplinary conversation about the most pressing topics in the study and teaching about religion in North America. Along the Canal Walk in downtown, the Hampton Inn & Homewood Suites hotels are just across the street from Indiana University–Purdue University Indianapolis. The hotels are within two miles of Bankers Life Fieldhouse, the Indiana Convention Center, and Lucas Oil Stadium. Explore the many nearby museums, parks, trails, and cultural sites, all within a few blocks. Thankfully, Lilly Endowment has once again generously agreed to help underwrite hotel rooms. Participants will receive a $50 discount per night upon checkout following the conference (available on a first come first served basis until reserved rooms are full).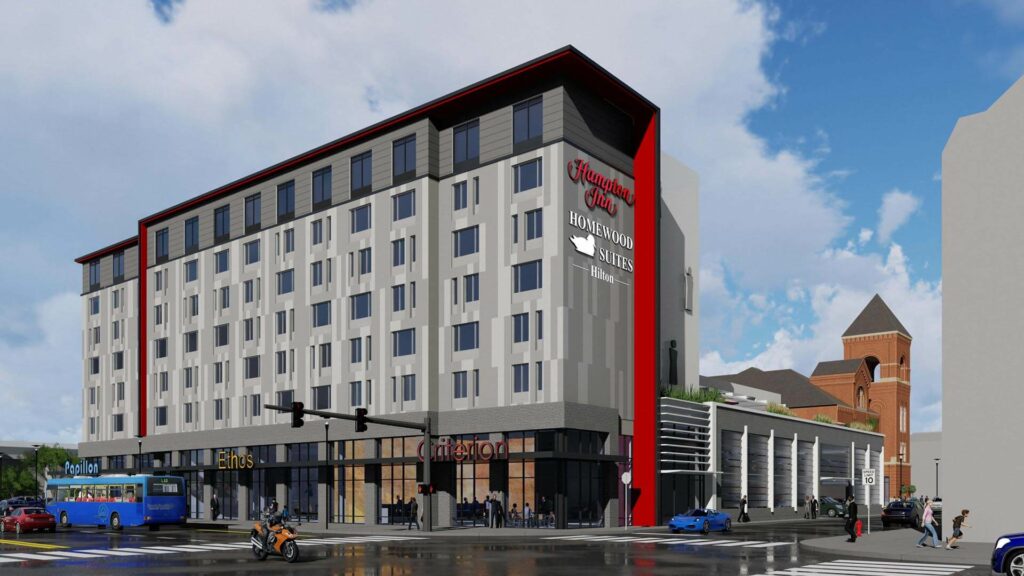 The conference will kick off with graduate research presentations followed by two days with four sessions each. Sessions will include the following topics:
Nationalism
Beyond White Christian Nationalism in the United States

The influence of white Christian nationalism (WCN) on the current political and cultural moment is undeniable. Pushing beyond a discussion of association, what are the underlying individual and social mechanisms activating WCN? How might those mechanisms continue to shift? How and why is WCN influential beyond white Christian institutions and organizations? For instance, how are the political and social realities of various racial and ethnic minority groups being shaped by or reacting to WCN? What are the connections between various forms of religious nationalism abroad and WCN in the United States? What forms might WCN take in the coming 10, 20, to 50 years and how might those in the academy respond?

 

 

Panelists: Gerardo Martí (Davidson), Samuel Perry (Oklahoma), and Todne Thomas

(Harvard)

Religio-Racial Nationalisms in Global Contexts

Religio-racial nationalism—the combination of religious, racial/ethnic, and national identities—is an increasingly important topic globally. Religion, racial, and national identities coexist and can even reenforce each other. This can buttress popular religion and notions of racial superiority, empower religious organizations to influence policy, and shape the patterns of state violence. How have we seen religio-racial nationalisms play out in the past century, especially of late? What are the connections of various global religious racial nationalisms to each other and how do the ever-extending digital and social networks amplify and interpolate/alter their impact on a global stage, including in North America

Panelists: Chad Bauman (Butler), Sarah Riccardi-Swartz (Northeastern), and Christopher Soper

(Pepperdine)
Belonging
Refugees and New Immigrants in the United States

In our current discourse, migration and refugee are largely described as two separate experiences with migration largely framed along the lines of economic mobility and people "choosing" to migrate, while being a refugee is characterized by "displacement" and described through a humanitarian lens. Influenced by this differentiation, the role of religion too has been discussed in two varying ways. For immigrants, religion is identified as a "connection," one that keeps immigrants connected to their home country and culture as they adapt to a new country. For refugees, however, religion is largely described as an "assistance," with religious organizations helping refugees resettle and adapt to a new country. While these distinctions have proven useful in understanding some historical alignments, for the purposes of this session we want to think about the role of religion through the lenses of belonging and formation. How does religion provide language and discourse for refugees and immigrants to create narratives and values in relatively new settings? Moreover, how does their religious formation provide them spaces, often across nationality and language, to think about their relationship to other political, environmental and cultural forces, like food insecurity, environmental displacement, and economic vulnerabilities?  Given these unprecedented and complicated intersectional changes impacting migrant and refugee populations, how can we re-think the relationship of religion and social solidarity? Moreover, what aspect of religious experience should we explore and center when foregrounding the everyday lives and practices of communities shaped by migration and displacement?

 

 

Panelists: Melissa Borja (Michigan), William Calvo-Quiros (Michigan), Shari Rabin (Oberlin)




Resonance and The Good Life

The sociologist Hartmut Rosa has posited that social scientists have, somewhat curiously, often demurred from considering what makes for a good life; his project, meanwhile, is to investigate social structures that provide a greater likelihood that contemporary citizens of these structures might experience "resonance" in alignment with life's rhythms. This provocation from Rosa provides the framework for this session, in which we will consider different angles on persistent questions in contemporary religious studies under the rubrics of "resonance" and "the good life." What are the various modes and structures of "belonging" in contemporary society that foster resonance and diminish/mitigate alienation? From where do these structures derive their coherence and efficacy? Is resonance cognate with spirituality? Can such contemporary important phenomena as gaming, physical fitness clubs, new religious movements, etc. be profitably theorized as modes of resonance seeking, and if so, then what might this mean for how we speak of "religion?" In what ways might such a framework produce fresh insight on contemporary modalities of belonging, identify formation, and social efficacy?

 

 

Panelists: Gregory Price Grieve (UNC-Greensboro), Rachel Wagner (Ithaca), and Daniel Winchester 

(Purdue)
Digital
Religious Practice in a Digital Culture

Traditional religious practice is always a blend of rituals passed down through the ages and the contemporary influence of technology, music, gender norms, racial and ethnic identity, and many other factors.  Twentieth century religious practice was affected by greater access to print media, radio, television, the internet, and then social media and digital communication.   As the pandemic forced most congregational worship into virtual worship and digital interaction, it accelerated trends already underway. How will the use of virtual presence and digital communication—including data management techniques—affect the future of American religious and spiritual gathering?  Do these changes represent a victory for individualism and consumerism and a loss for communitarianism?  Will some religious traditions advance as others fade?  Is this different from the advent of radio or television religion and, if so, how? 

 

 

Panelists: Heidi Campbell (Texas A&M), Monique Moultrie (Georgia State), and Scott Thumma 

(Hartford)

Digital Scholarship and Teaching

The "Pandemic Pivot" required faculty to move their courses online. Communities of colleagues across the nation shared ideas on busy Facebook feeds. Some made this move easier than others, based upon individuals' experience with online teaching. In an instant, our teaching joined the burgeoning digital scholarship that marked various disciplines working in American religion. What is the future of digital scholarship and teaching? How are they tied together or distinct? What are the unique challenges and advantages of digital work? How would you characterize the current state of affairs and what is on the horizon?

 

 

Panelists: Art Farnsley (IUPUI), Rachel Lindsey (SLU), Lincoln Mullen (George Mason), and Hussein Rashid 

(Independent Scholar)
Rights
Reproductive Rights

As we await the SCOTUS decision on Dobbs v. Jackson Women's Health Organization, a decision that has the potential to overturn Roe v. Wade, we turn to the complex history of religion and reproductive rights and reproductive justice in the United States. When we think about the relationship between religion and reproductive rights in the U.S., we tend to think of them in opposition. In what ways is this perception accurate? Inaccurate?  If reproductive justice focuses on the right to have or not have children, why has reproductive rights tended to focus on the right to not have children? Do different religions have different takes on reproductive rights? What are some of the ways that religious restrictions on reproductive health shape our society that people may not be readily aware of? 

 

 

Panelists: Tricia Bruce (Notre Dame), Samira Mehta (Colorado-Boulder), Ronit Stahl (UC-Berkeley)


Religious Freedom in the Age of Pandemic

Religious freedom is the rallying cry for many who resist state pressure to accept prevailing social norms.  Some religious employers claim exemption from providing insurance that underwrites access to abortion.  Some individuals and businesses resist being required to participate in gay marriages.  Most recently, a large number of Americans claim religious exemption from any kind of vaccine mandate.  Why have claims of religious conscience become such a bastion for resistance and refusal?  How does the idea of religious freedom shape the narrative around American religion and its relationship to individualism, consumerism, and market capitalism?

 

 

Panelists: Tisa Wenger (Yale Divinity), Susan Ridgely (Wisconsin-Madison), Matthew Avery Sutton (Washington State)
---
Conference Schedule
Thursday, June 2
Afternoon – Arrival
Evening – Dinner on own
Dessert Reception
Graduate Research Presentations  (7:00-9:00)
Friday, June 3
Nationalism
9:00-10:30 Session 1: Beyond White Christian Nationalism in the United States
10:30-11:00 Morning Break
11:00-12:30 Session 2: Religio-Racial Nationalisms in Global Contexts
12:30-2:30 Lunch Break
Belonging
2:30-4:00 Session 3: Refugees and New Immigrants in the United States
4:00-4:30 Afternoon Break
4:30-6:00 Session 4: Resonance and The Good Life
Saturday, June 4
Digital
9:00-10:30 Session 5: Religious Practice in a Digital Culture
10:30-11:00 Morning Break
11:00-12:30 Session 6: Digital Scholarship and Teaching
12:30-2:30 Lunch Break
Rights
2:30-4:00 Session 7: Reproductive Rights
4:00-4:30 Afternoon Break
4:30-6:00 Session 8: Religious Freedom in the Age of Pandemic
6:00-8:00 Closing Reception
---
Proceedings from the biennial conferences are available here.
The 2019 Biennial Conference program is available here.
The deadline for registration is May 1st.