6th Biennial Conference on Religion & American Culture


Every two years, the Center holds a conference on religion and American culture featuring the work of nationally recognized scholars speaking on a wide variety of subjects. Programs include both presentations and roundtable discussions. Conversation is, in fact, the key to our biennial meetings. As in years past, panelists will sit in the center of the room at a round table. Around them will be risers on all sides for attendees, thus promoting a sense that we're all gathered around the table together. This promotes more face-to-face conversation rather than the traditional "sage on the stage" presentation followed by a few questions that not everyone can hear. We invite you to join us June 6-9, 2019, for the Sixth Biennial Conference on Religion and American Culture. We have new ideas to push our already non-traditional meeting even further!
Once again, the conference will be held in Indianapolis, Indiana. While best known for its iconic motor speedway and 500-mile race, Indianapolis has a surprise waiting around every turn. The city has glimmering canal walk connected to 250 acres of urban green space with one-of-a-kind museums, a top 10 zoo, the original LOVE sculpture, and the world's largest children's museum. Indianapolis also has a collection of monuments and memorials rivaled only by Washington DC.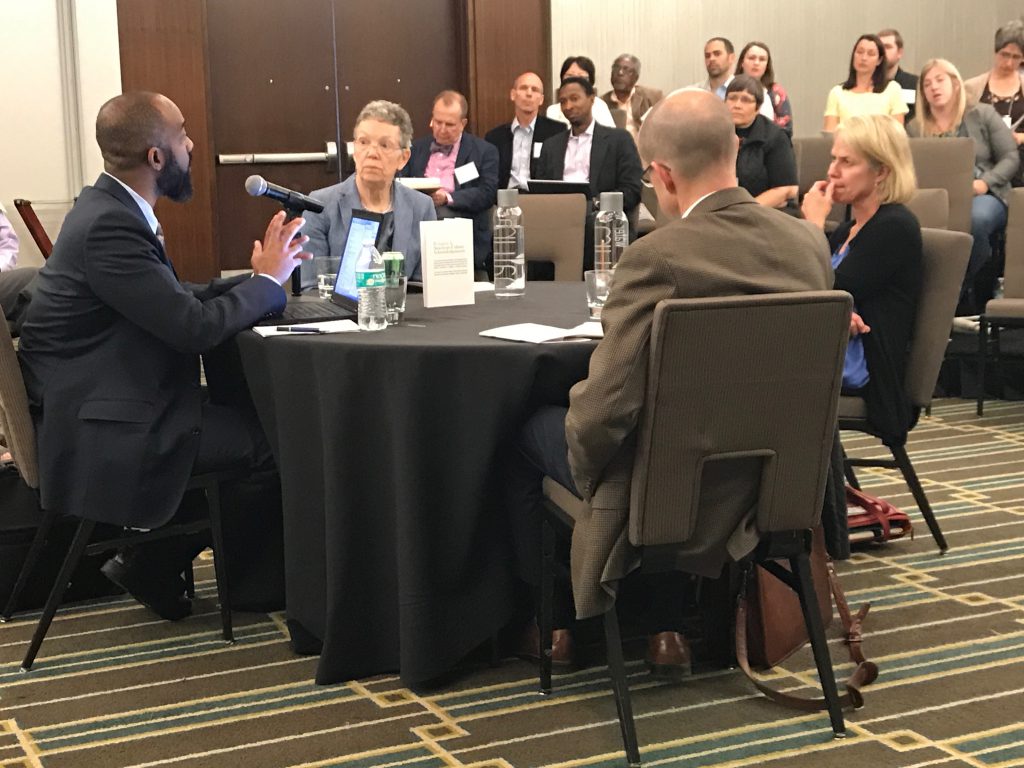 We are excited to announce that we will again take over The Alexander Hotel in Indianapolis for several days of interdisciplinary conversation about the most pressing topics in the study and teaching about religion in North America. Nestled in the CityWay area of downtown Indianapolis, The Alexander, A Dolce Hotel, presents contemporary design with unparalleled hospitality. In every room, lobby, and dining space is a piece of art designed to inspire you during your stay, commissioned or curated from local and international artists. Thankfully, Lilly Endowment has once again generously agreed to help underwrite hotel rooms. Participants receive a $175 nightly rate, subsidized to $95/night upon checkout following the conference (available on a first come first served basis until reserved rooms are full).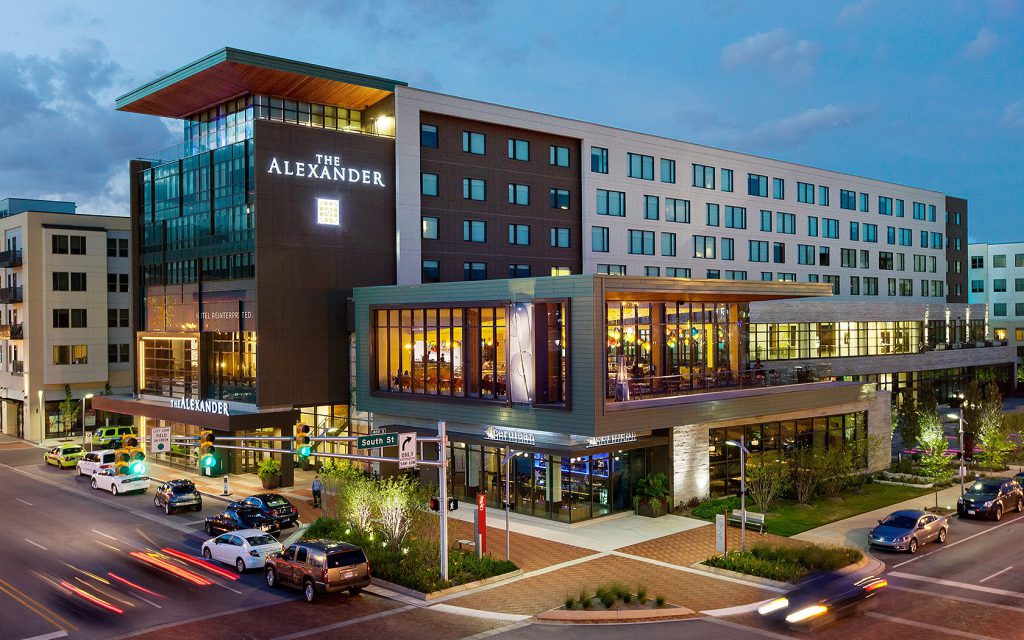 We are planning eight sessions over two days, following this topical outline:
Teaching American Religion
 For many teaching about religion in North America, it is a tale of two cities. While digital and local resources are richer than ever and many institutions value experiential learning, our students are quite different from a generation ago. Generally, they are less religious and know less about religion, which means for many courses we must recruit them to register and then focus more on content than we want, just to familiarize them with the material. What does this portend for American religious studies over the next decade, as enrollments in the humanities and some social sciences decrease? How do we attract, retain, and truly educate students in our field? What have you found resonates with a new generation prone to avoid the topic?
Kathleen Holscher, University of New Mexico
Carolyn Medine, University of Georgia
Douglas Thompson, Mercer University
Translating Scholarship
In our current context, where universities and colleges are changing and are under pressure to prove their worth, this panel seeks to focus on the applied aspects of our work. While all acknowledge the value of learning for its own sake, we understand the need to be able to explain how our work has direct or indirect implications for policy and practice to the state, school stakeholders, religious organizations, or funders. What are the current uses of religion scholarship? What areas do we need to further develop? How do we prove our value beyond what students turn in during the semester?
Heath Carter, Valparaiso University
Robert Orsi, Northwestern University
Mira Sucharov, Carleton University
Religion and Refugees
Globally, refugees give evidence of a world in flux—both in the homeland they leave and in the new places they inhabit. In North America, what is religion's role in the daily lives of refugees? How does it individually and communally aid or complicate their new lives? How is religion used in lobbying governmental policy on refugees? How do refugees stimulate religious vitality? How does religion scholarship shape social attitudes and reactions toward refugees?
Melissa Borja, University of Michigan
Tricia Bruce, University of Notre Dame
Gale Kenny, Barnard College
Different Narratives in Religion and American Politics
For decades, the popular running narrative of religion and politics has been focused on white evangelicals. It reached its apogee following the 2016 election. But what if we turn our focus elsewhere and explore the role of religion in politics outside that that familiar story. Where and how should we focus our attention? What are the trends we're ignoring or missing? What are the other important narratives that have been overshadowed by the dominant focus?
Prema Kurien, Syracuse University
David Harrington Watt, Haverford College
Aubrey Westfall, Wheaton College
Religion and Crisis
Religion can play multiple roles in crises but almost always it is deeply embedded in the social, economic, scientific, cultural, or political circumstances of the day. From violence to peacemaking, from voter suppression to Moral Mondays, from homophobia to human rights, from climate change denials to faithful environmentalism, contemporary American life is rife with pressing contradictions. How can we best understand religion's relationship to crisis, past and present? Rather than focus on only one side of the equation—religion as the problem or the answer, the cause or the solution—how might we form more holistic understandings of how religion is embedded in crises? 
Amanda Baugh, California State University Northridge
John Corrigan, Florida State University
Anthony Petro, Boston University
New Religious Movements Embodied
Recent work on such subjects as photography, race, and gender have furthered our understandings of the role of the body in religious history. How were conceptions of the body of those who were shaped by new religious movements similar to or different from these? How might more attention to the body in the study of new religious movements complicate our conceptions of race and gender in American religions? 
Andre E. Johnson, University of Memphis
Leonard Primiano, Cabrini University
Judith Weisenfeld, Princeton University
Science, Technology, and Spirituality
Recent studies of the modern spiritual imagination, including the spirituality of the "nones" and spiritual-but-not-religious, have opened new inquiries into areas that once seemed settled. No longer do we assume the closed, deterministic world of science has triumphed over a world of belief in spiritual dimensions. Indeed, scientific assumptions and technologies have long shaped religious and spiritual views. How have scientific ideas both fostered secularity and religious decline and also helped people believe in the existence of unseen realms, spurring them to beliefs in other dimensions? How has science and technology caused, or at least helped, religious elements in culture to be reformulated and inspired different activities understood to be "spiritual"?
Sylvester Johnson, Virginia Tech
Hillary Kaell, Concordia University
Christopher White, Vassar College
Looking Ahead
This year marks the thirtieth anniversary of the Center for the Study of Religion and American Culture, after several major national meetings in the 1980s, as an effort to coordinate the efforts of those studying American religions and perhaps help to shape a more coherent field. Activities such as the founding of a journal, the Young Scholars in American Religion Program, and most recently the Biennial Conferences have been efforts toward those goals. Two driving questions behind these and other activities have been: "what needs to be done that isn't being done to further this field of study?" and "what needs to be done better to further this field of study?" Given the changes in scholarship and academia, as well as our understanding of the subject, now is a good moment to pose that question again. Beyond looking at new topics or developing new methodologies, what sort of institutional or public structures need to be developed? What common activities, networks, and formats need to be created or improved to significantly extend new insights into the relationship of religion to other aspects of American culture?
Rudy Busto, University of California – Santa Barbara
Laura Levitt, Temple University
Rhys Williams, Loyola University Chicago
---
Conference Schedule
Thursday, June 6
6:00-8:00 Opening Reception, Platt 99
Friday, June 7
6:30-9:00 Coffee and breakfast available for purchase at Market Table and Yolk
8:30-9:00 Registration
Block 1
9:00-10:30 Session 1: Teaching American Religion
10:30-11:00 Morning Break
11:00-12:30 Session 2: Translating Scholarship
12:30-2:00 Lunch Break/Light snacks and refreshments available at the Nourishment Hub
Block 2
2:00-3:30 Session 3: Religion and Refugees
3:30-4:00 Afternoon Break. Nourishment Hub refreshments available until 4:30
4:00-5:30 Session 4: Different Narratives in Religion and American Politics
Saturday, June 8
6:30-9:00 Coffee and breakfast available for purchase at Market Table and Yolk
Block 3
9:00-10:30 Session 5: Religion and Crisis
10:30-11:00 Morning Break
11:00-12:30 Session 6: New Religious Movements Embodied
12:30-2:00 Lunch Break/Light snacks and refreshments available at the Nourishment Hub
Block 4
2:00-3:30 Session 7: Science, Technology, and Spirituality
3:30-4:00 Afternoon Break. Nourishment Hub refreshments available until 4:30
4:00-5:30 Session 8: Looking Ahead
5:45-8:00 Closing Reception, City Way Gallery (first floor)
---
Proceedings from the biennial conferences are available here.
The 2017 Biennial Conference program is available here.