January 23, 2023 at 3:00 – 4:00 pm (Eastern)
Religion isn't always serious business! From standup comedy to the satire we watch onstage and onscreen, religion often provides rich source material for humor. At the same time, many Americans learn about religious people, ideas, and practices through humor. An important cultural touchstone, humor serves as a medium through which groups articulate religious identities and become socially legible, and through which the public develops their understanding of not only particular groups, but religion overall. Join us for a lively discussion with a panel of experts on Catholic, Muslim, and Jewish humor and explore the fascinating relationship between religion and humor in American popular culture.
---
Panelists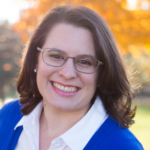 Stephanie Brehm, Northwestern University
Stephanie Brehm's academic work uses ethnographic and media studies methods to explore the intersection of entertainment, mass media, and religion in twentieth- and twenty-first-century American society. She is currently the Assistant Director for Academic Development in The Graduate School where she developed and implemented the strategic plan, reviews curriculum, manages interdisciplinary graduate assistantships, and leads the assessment initiative.
Jennifer Caplan, University of Cincinnati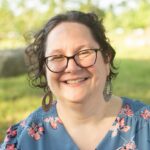 Jennifer Caplan is Jewish Foundation of Cincinnati Chair in Judaic Studies at the University of Cincinnati. Caplan's book "Funny, You Don't Look Funny: Judaism and Humor from the Silent Generation to Millennials" (Wayne State University Press) demonstrates how Jewish humor marks developments in the Jewish identity, Jewish religion, and the concept of religion itself and will be coming out in March 2023. In addition to courses about Jews and Judaism in film, comics, and humor and on modern Jewish history, Caplan also teaches a variety of courses in religious studies.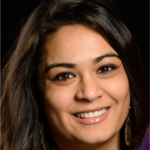 Samah Choudhury, Ithaca College
Samah Choudhury is Assistant Professor in the department of Philosophy and Religion at Ithaca College. Her research surrounds American Muslim humor and the politics that accompany what it means to be socially legible in the United States. Samah focuses particularly on how Islam and Muslims are articulated through the medium of standup comedy – a highly staged and embodied genre that reveals how Islam finds recognition (and becomes obscured) through discourses of race, gender, affect, and American secularism.
Host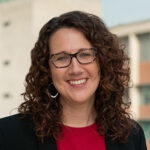 Krista Longtin, Indiana University-Purdue University Indianapolis
Krista Longtin is an Associate Professor of Communication Studies in the Indiana University School of Liberal Arts at IUPUI, and an Assistant Dean for Faculty Affairs and Professional Development at the Indiana University School of Medicine. She researches communication education and faculty development in the sciences and health professions.